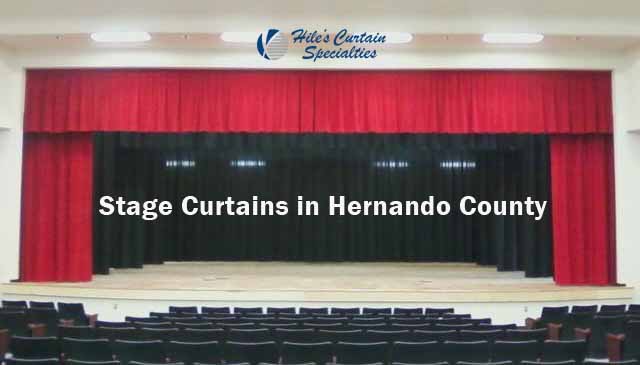 Stage Curtains in Hernando County Florida – From measure to fabrication to install, it's Hile's Curtains here in Tampa. The largest stage curtain manufacturer in the southeast.
Stage Curtains in Hernando County FL
Stage Curtains in Hernando County and the surrounding area, Hile's Curtain Specialties in Odessa Florida. From the smallest school stage to the largest arena backdrops, we handle it all.
Hile's Curtain Specialties has been manufacturing and installing custom stage throughout the southeast US since 1971, so we've learned a thing a two about entertainment stage curtains.
And here in our new facility in Odessa Florida, Hile's Curtains custom fabricates theater and stage curtains for a wide variety of applications including; schools and universities, touring companies, professional theater and summer stock, concert venues, houses of worship, trade show exhibits, architectural spaces and more.
Additionally, our new facility also allows us to offer the fastest turnaround time in the industry, even on the most complex jobs.
From our modest beginning as Tampa Florida's first stage curtain manufacturing companies to one of the largest stage curtain manufacturing plants in the southeast US, serving stages and venues throughout Florida, Georgia and Alabama. All our products can be efficiently shipped throughout the United States, as well as worldwide.
Stage Curtains in Hernando County – Hile's Curtain Specialties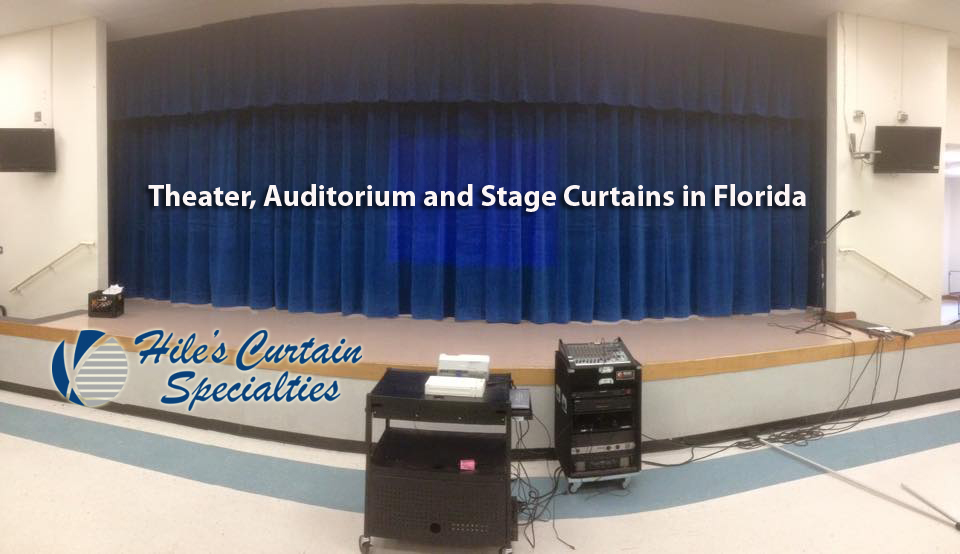 From the smallest stage to the largest venue, Hile's Curtain Specialties in Tampa Florida is here to help. Hile's manufactures and installs stage curtains for theaters, schools, performing arts centers, colleges, houses of worship, television studios, trade shows and exhibits, corporate events, concerts and more. We custom manufacturer curtains in-house here in Tampa Florida and have the capability to handle any size project from a small elementary school to the largest arena.
We handle it all…from the initial measurements, through custom manufacture, to professional install.
RECENTLY COMPLETED PROJECTS:
Busch Gardens Tampa
USF Marshall Center
North County Tech Center, Sarasota
HCC Ybor, Tampa
Blountstown HS, Tallahassee
D.W. Waters HS, Hillsborough
Stage Curtains in Hernando County – Stage Curtain Cleaning
Not only can we manufacture custom made curtains, we can bring you dingy old curtains back to life with our stage curtain cleaning. 
Stage Curtains in Hernando – Stage Curtain Fireproofing
Additionally, there are fire compliance issues. The NFPA requires all cotton stage curtains be re-treated with flame proofing every five years. And when it comes to fire safety, you must be proactive. 
Let us get your rigging working for you!
Experience the Hile's Difference
Not all stage curtains are made the same.

From the initial design consultation, to the meticulous manufacture, to the professional installation and beyond, we are dedicated to helping you discover the very best in custom stage curtains in Hernando County Florida and beyond.
Call The Experts in
Stage Curtains
In Hernando County at
Hile's Curtain Specialties