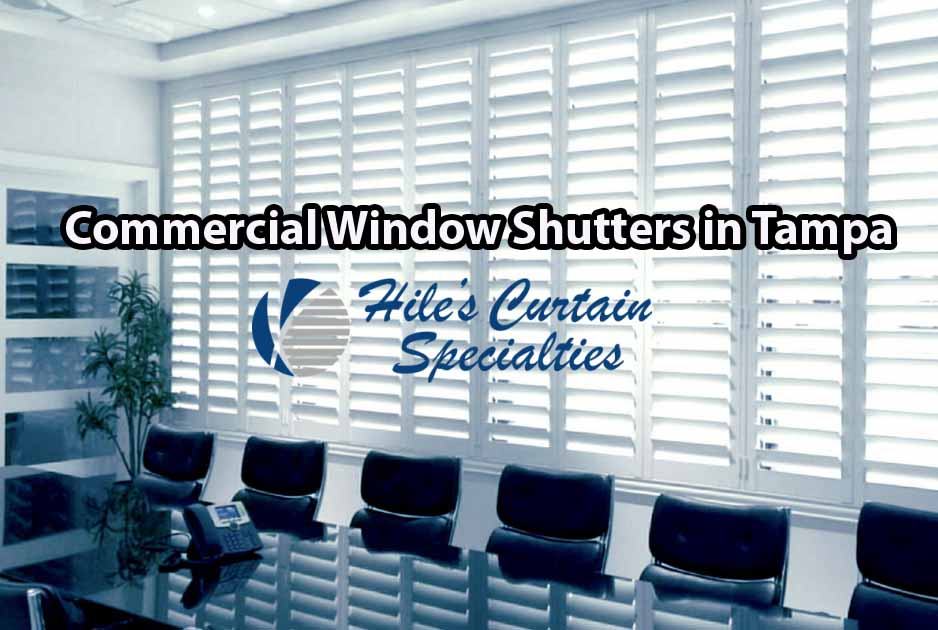 Commercial Window Shutters – Tampa – Shutters, Blinds, Curtains, Shades and more for any type of commercial business. For almost 50 years, bushiness have chosen Hile's.
Commercial Window Shutters – Tampa
Our Professional Window Treatments;
Reduce glare
Preserve the view
Reduce cooling energy costs
Protect carpet fading and inventory UV damage
Decrease glare and employee discomfort
Reduce clerk inaccuracy by eliminating glare on point-of-sale equipment near windows
Customer comfort
Allow for natural daylight into your space, reducing need for artificial lighting
Provide energy efficiently while allowing the best view-through from street
Window curtains, swags, cornice boards, draperies, mini blinds, verticals, roller shade, shutters, etc., manual or motorized. We handle jobs ranging in size from a single office window to treatments for every window in large buildings, even skyscrapers.
And we offer customized window treatments for retail stores, auto dealerships, schools, restaurants and more.
O
ur Custom-Crafted Window Treatments Turn Ordinary Windows into Spectacular Windows.
If your business has ordinary, drab, ill-fitting window treatments are are in desperate need of a makeover, call Hile's today.
Commercial Widow Treatments – Curtains, Blinds, Shutters and Shades

Commercial Window Shutters – Tampa, Clearwater and St Petersburg  – Keep your cooling costs low, limit damaging UV rays, maintain privacy and security, and look professional – all at the same time. 
When it comes to custom window shutters, Hile's Curtain Specialties rises above the rest. We are your source for beautifully crafted office and commercial window treatments. Our team is equipped with the skills, experience, and state-of-the-art tools to effortlessly provide you with stunning custom curtains, blinds and shutters ideal for both residential and commercial applications as well as office environments. Rest assured that with us, you receive exemplary product and services every single time, for every single window, even skyscrapers.
Whether you're a building owner, architect, interior designer, or you just happen to be looking for the very best supplier of custom commercial drapery, curtains, blinds, shutters and window treatments, you'll enjoy superior service from our professional staff. With over 45 years of experience supplying custom window and wall coverings in a wide variety of commercial environments, to some of the largest stages in business, are a testament to the continued satisfaction of our valued clients and the quality of the window treatments and custom window treatments, drapery and curtain systems we furnish our clients.
For Over 46 Years Hile's Curtain Specialties has been a leading provider of Commercial Window Treatments in the Tampa/Clearwater/StPete Area.
Let us show you why.