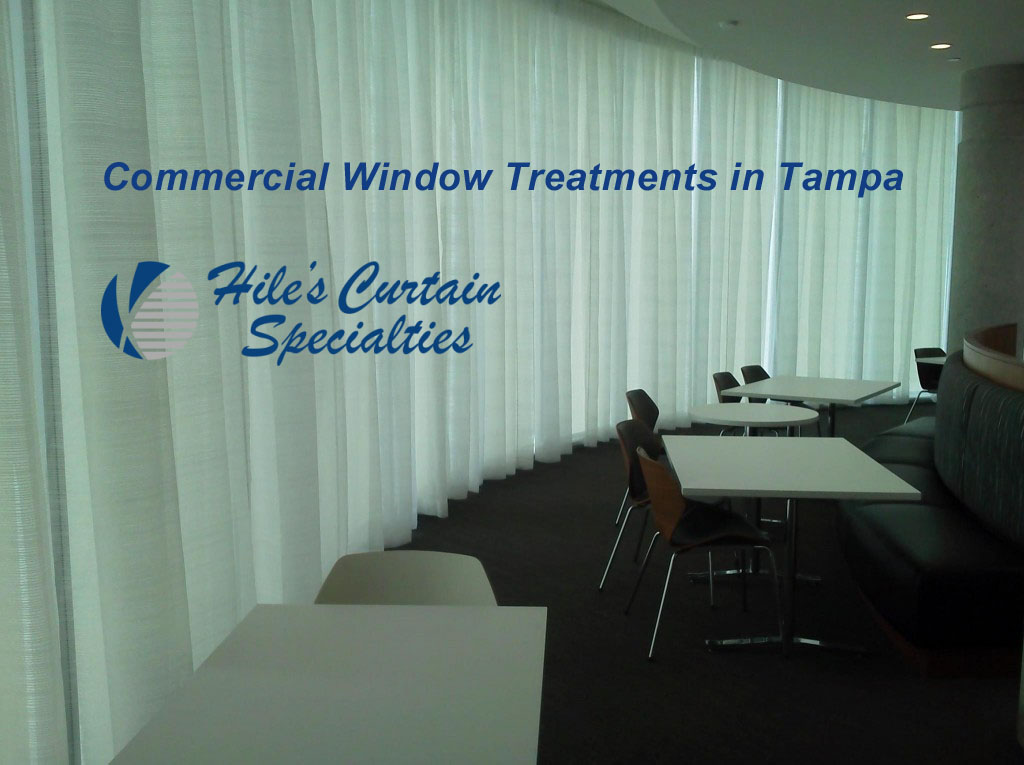 If you need commercial window treatments in Tampa, your first call is Hile's Curtain - The experts in commercial window treatments in Tampa for over 40 years.
Hile's - The Experts in Commercial Window Treatments in Tampa
From the initial measurements to installation and the "WOW" that is shouted, Hile's Curtain Specialties handles it all.
Window Curtains
Window Shades
Window Blinds
Window Shutters
Hile's began in 1971 as a family-owned drapery manufacturer serving the Tampa area. We now work throughout Florida, Georgia and Alabama. As our business grew we expanded and relocated several times to larger facilities. Today Hile's has a new office/warehouse/sewing room in a 9,500 square foot facility located in Odessa, Florida. It is here where we fabricate stage curtains, hospital cubicle curtains and window coverings. Additionally, we supply and install pipe grids for CCTV, as well as manual and motorized stage hardware, window coverings, and projection screens.
Our Core Work
Window Treatments
Stage Curtains
Cubicle Curtains
Motorized Systems
Ultrasonic Blind Cleaning - Blind Repair
Commercial Window Treatments in Tampa - The Easy Way
One of our commercial design consultants can come visit you, determine just the right coverings for your space, then hand off measurement, fabrication and installation to other members of the Hile's Curtain Specialties team. Done.
And at Hile's we know that communication is the key to any successful project. You can rely on personalized ongoing attention, as well as technical assistance and coordination from your initial consultation to our final professional installation.
Commercial Window Treatments in Tampa - No Project Too Big Or Too Small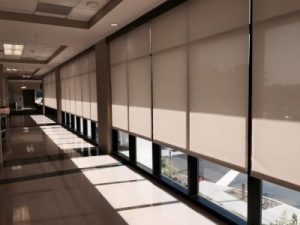 Whether you're a building owner, architect, interior designer, or you just happen to be looking for the very best supplier of custom commercial, drapery, curtains and window treatments, you'll enjoy superior service from our professional staff. With over 45 years of experience supplying custom window and wall coverings in a wide variety of commercial environments, to some of the largest stages in business, are a testament to the continued satisfaction of our valued clients and the quality of the window treatments and custom drapery and curtain systems we furnish our clients.
Additionally, having worked through just about every complicated curtain and drapery installation condition imaginable in over 4 decades of service, we have a solid working knowledge of both the industry and client needs. We can spot and fix troublesome specs before your drapery or curtain install This keeps your project on track and on budget. Even if you're not quite sure about the very best way to control light or privacy in your commercial application, our experts will consult with you to provide the custom drapery or commercial window system that is right for you.
Experience the Hile's Difference
Hile's Curtain Specialties has become Florida's trusted source for enhancing commercial work spaces – for good reason.
From the initial design consultation to the expert installation and beyond, we are dedicated to helping you discover the best in custom commercial draperies, specialty curtains, and other window, stage and privacy treatments that add beauty and functionality for any environment.

For 46 Years Hile's Curtain Specialties has been the leading provider of Commercial Window Treatments in the Tampa Area. 
Let us show you why.