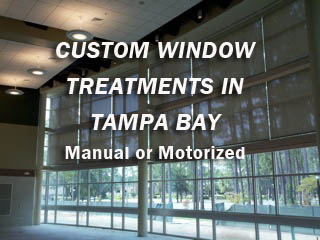 Custom Window Treatments in Tampa Bay – Curtains, Shades, Drapes, Blinds and More for Commercial and Retail throughout the Tampa Bay and Suncoast area.
Custom Window Treatments in Tampa Bay
Hile's Curtain Specialties offers the widest variety of commercial and retail custom window treatments in Tampa Bay and the surrounding western – central Florida.
From a single office window to large motorized systems, to skyscrapers, Hile's can handle any size project. And you'll find our work throughout Tampa Bay. From restaurants, to offices, to specialty retail, to commercial buildings here in central Florida
Custom Window Treatments in Tampa Bay – Hile's Curtain Specialties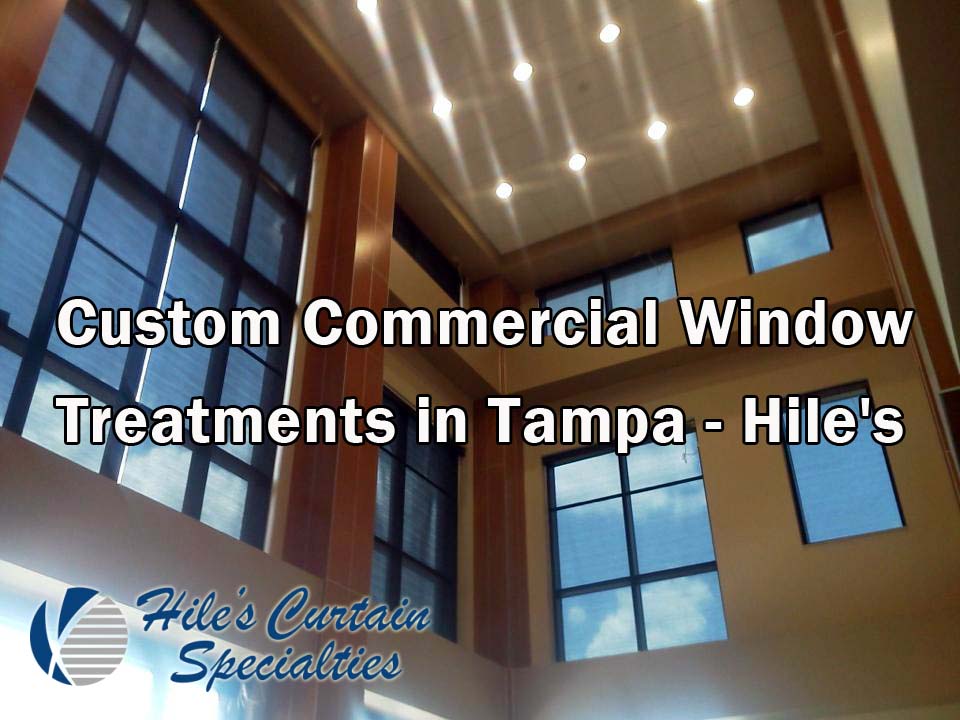 Hile's Curtain Specialties realizes that commercial window covering projects have different demands and requirements. Hile's offers many different solutions, including fire retardant materials, specialty tracks, mini blinds, screen shades, manual and motorized systems, awnings, skylight blinds, sun-blocking and insulating products, roller shade and roller shutters and of course, curtains. All custom manufactured to your exact needs and specifications here in Odessa Florida just beside Tampa.
Custom Window Treatments in Tampa – Manual or Motorized
From restaurants and hotels, to apartments and office buildings, to auto dealers, to retail and more, we can customize each order with motorized window coverings.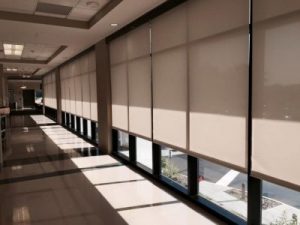 There are several reasons to choose a motorized window covering system over a hand-operated system. First, a motorized system makes it easier to adjust the position of your blinds and shades.
This added convenience greatly simplifies the control of light and temperature in your commercial or office space, especially if you have blinds or shades that are located in hard-to-reach places, or are too tall or simply too large to easily manipulate by hand.
A motorized system also helps you control light and temperature by making it easy to precisely control and coordinate the position of all of the shades or blinds. In addition, you can program motorized window coverings to open or close automatically at specific times of day. In turn, this gives you the ability to conveniently protect your furnishings, flooring and other valued property from penetrating, harmful UV radiation.
The Best Custom Window Treatments in Tampa Bay – Hile's
Window coverings are an essential part of modern decorating and functionality for any office or building.  Window coverings work to provide shade and light control, keep out harmful UV rays and create a more comfortable working atmosphere.
Hile's Curtain Specialties is a full service window treatment company serving Florida and the southeast.  We specialize in the sales and installations of a wide variety of window treatments and coverings for commercial clients.
From the initial design consultation to the expert installation and beyond, we are dedicated to helping you discover the best in custom commercial draperies, specialty curtains, and other window, light control and privacy treatments that add beauty and functionality for any environment.
For 46 Years Hile's Curtain Specialties has been the leading provider of Custom Window Treatments in Tampa Bay Florida.
Let us show you why.