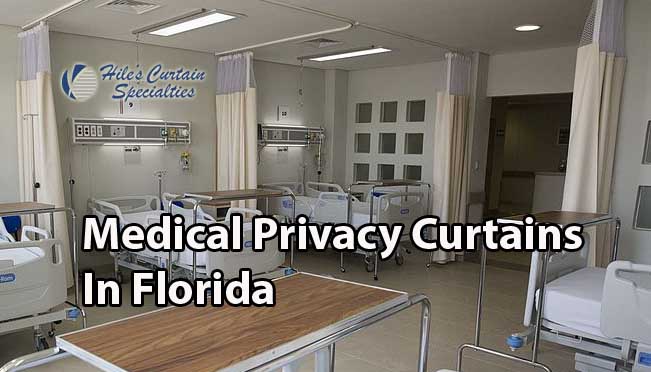 Hospital and Medical Privacy Curtains in Florida for Hospitals, Medical Clinics, Educational Entities and Commercial Endeavors. Hile's offers custom fabricated curtains and tracking.
Medical Privacy Curtains in Florida
Privacy curtains shield an individual from others in a variety of settings involving healthcare, the military, education, commercial and business use, even disaster relief. They may be self-standing and portable so they can be located wherever the need arises, or more commonly,permanently attached to the ceiling.
Modern-day health care providers realize that the crossover between hospitality and healthcare has never been greater. Facilities across the country are aiming to reduce the antiseptic medical feel of traditional health-related environments, and create a more spa-like residential warmth. This shift provides residents and patients with a healing environment that captures the right balance of calmness and warmth. Privacy curtains are a wonderful way for facilities to bring pattern and texture into a room, adding color and interest without requiring more expensive renovations.
Hospital and Medical Privacy Curtains in Florida – Hile's Curtain Specialties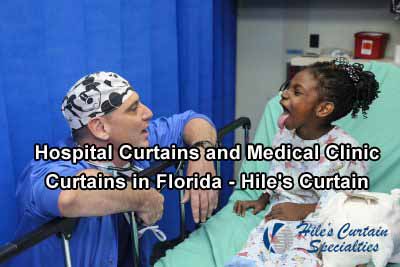 For nearly 50 years, Hile's Curtain Specialties has provided privacy curtains and tracking for in hospitals, clinics, offices, physical therapy rooms, dressing rooms, training rooms, and more.
Some of Our Popular Services include;
Cubicle Curtains
Cubicle Track
Cubicle Track Accessories
IV. Track and Components
Privacy Curtains and Screens
Room Darkening Curtains
Room Dividers
Window Treatments
All of our medical curtains provide smooth rolling operation, privacy, cleanliness, durability, and easy maintenance, adding up to a professional installation that brings quality and value to your facility. For decades, Hile's has been ahead of the curve, providing colorful and durable fabrics that complement the interior palettes of high profile large medical facilities down to small walk-in clinics. Our custom medical curtains are fabricated in our 9500 sq. ft. manufacturing plant in Odessa Florida by experienced personnel, to ensure long-lasting quality.
Hile's is your source for the highest quality medical privacy curtains here in Florida, and throughout the southeast US. All of our privacy curtains are custom manufactured right here in our facility in Florida.
How Can We Help?
Call The Professionals at 
Hile's Curtain Specialties