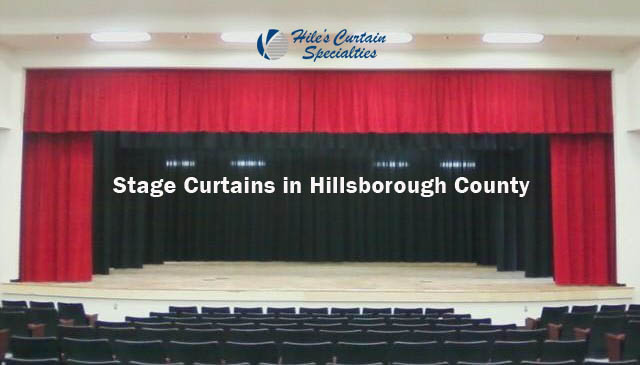 Theater and Stage Curtains in Hillsborough County - Hile's Curtain Specialties - Custom Stage Curtains - From measure to manufacture to install.
Stage Curtains in Hillsborough County
What began as a small family-run business almost 50 years ago here in Tampa Florida, has now grown to a large family run business here in Tampa. From our modest beginning as Tampa Florida's first stage curtain manufacturing company to one of the largest stage curtain manufacturing plants in the southeast US, serving stages and venues throughout Florida, Georgia and Alabama.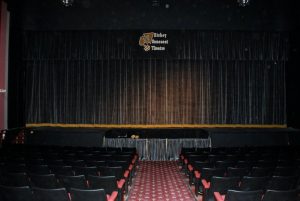 RECENTLY COMPLETED PROJECTS:
Busch Gardens Tampa
USF Marshall Center
North County Tech Center, Sarasota
HCC Ybor, Tampa
Blountstown HS, Tallahassee
D.W. Waters HS, Hillsborough
From the smallest stage to the largest venue, Hile's Curtain Specialties in Tampa Florida is here to help. Hile's manufactures and installs stage curtains for theaters, schools, performing arts centers, colleges, houses of worship, television studios, trade shows, corporate events, concerts and more. We custom manufacturer curtains in-house here in Tampa Florida and have the capability to handle any size project from a small elementary school to the largest arena. 
From the very first measurements to professional installation, we do it all.
Custom Curtains For Any Application
government buildings
commercial buildings
night clubs / bar stages
dance studios
art galleries/ exhibits
restaurants
theme parks stages
arena concerts
casinos/ resorts
corporate events
trade shows / exhibits
movie/ filming sets
sound studios
television sets
Stage Curtains in Hillsborough County - Stage Curtain Cleaning 
Not only can we manufacture custom made curtains, we can bring you dingy old curtains back to life with our stage curtain cleaning. 
The reality is that stage curtains are some of the largest air filters available. These large curtains absorb airborne dust, allergens, particulates, chemicals and other pollutants. And eventually, they stop absorbing and begin to contribute to poor indoor air quality.which can adversely affect the health of your staff, students and audience members who may be allergic or sensitive to these types of air quality issues. And, they look dirty, dull and dingy as well..
Let us bring your curtains back to life with our professional stage curtain cleaning here in Florida.
Stage Curtains in Hillsborough County - Stage Curtain Fireproofing
Additionally, there are compliance issues. The NFPA requires all cotton stage curtains be re-treated with flame proofing every five years. And when it comes to fire safety, you must be proactive. 
And there is no national code, so as a result there is a patchwork of regulations, administered at the local state or municipal level. Typically, fire codes will reference the National Fire Protection Association Standards (NFPA) which sets the standards here in North America.
And Hile's Curtain Specialties can repair curtains as well! Our fully staffed sewing room can patch and repair most rips and tears. 
For 46 Years Hile's Curtain Specialties has been the leading provider of stage, auditorium and theater curtains in Florida and the southeast U.S. 
Let us show you why.